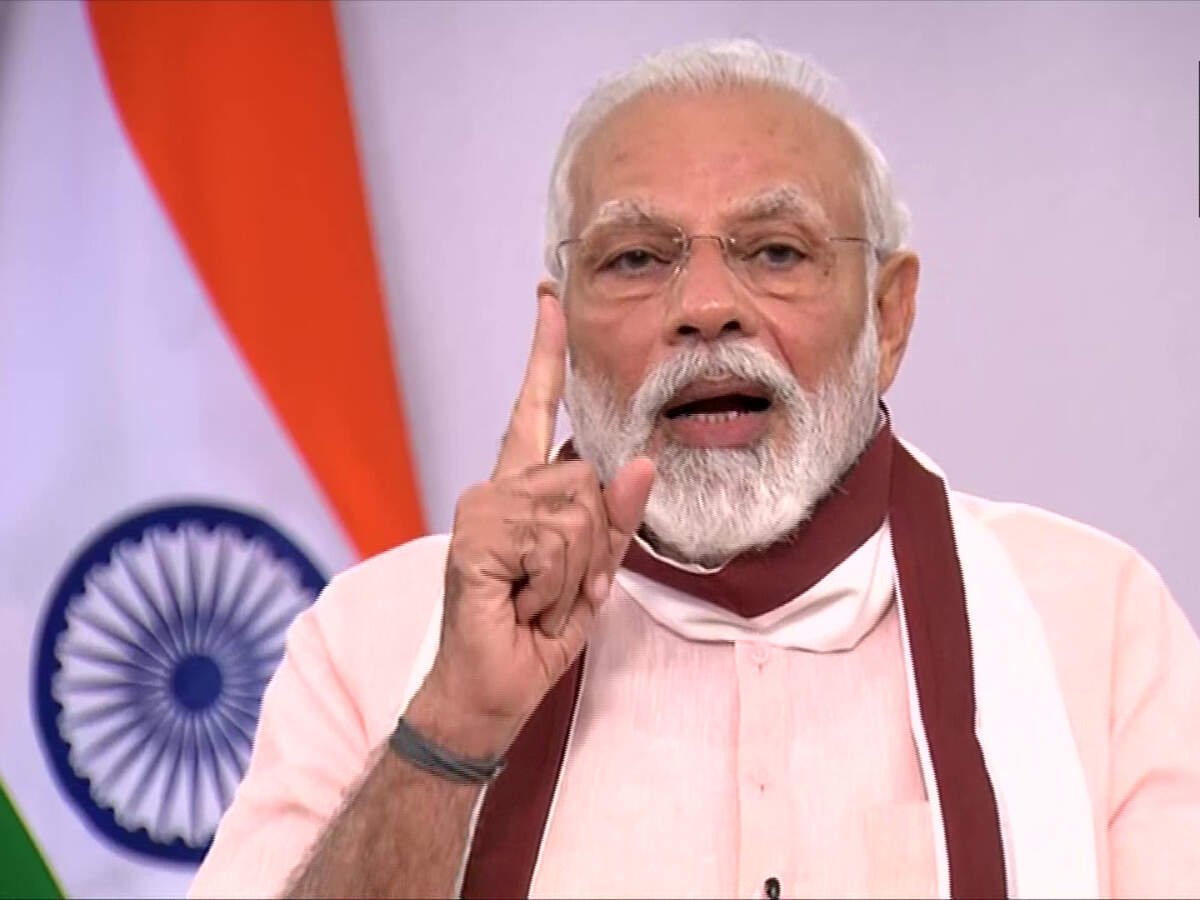 Our Honorable Prime Minister Narendra Modi addressed the nation on 12th May; 2020[1]. PM Modi motivated everyone to deal with COVID-19 and also informed the nation about where the Union stands right now over how to deal with COVID-19 and revive the economy in parallel. He did not provide much specific information but informed what approach should the citizens and governments adopt conjointly.
He said that COVID-19 is here to stay for a long time and that we must not disable ourselves due to the pandemic. No pandemic can stop India. We must follow appropriate health and safety protocols and resume the economic activities in such a manner to contain the spread of COVID-19. We must observe social distancing guidelines, frequently wash objects that are of regular use, wear face masks, and other guidelines. India should work in a manner to negate the spread of the pandemic and revive the economy. Therefore, Lockdown 4.0 will be implemented but with relaxation in rules of lockdown[2].
Self-reliance in India
India's PM Modi stressed on the need for India to become self-reliant in 21st century till the time COVID-19 pandemic lasts and even after that. He hinted that we must turn this crisis into a beautiful opportunity for ourselves. He even recounted how India has improved its production of PPE Kits, N-95 masks from almost negligible to 2 lakh per day[3].
He even recognized that the concept of self-reliance has evolved over the years due to globalisation and that, Self-reliance is not congruent to the act of becoming self-centred. He even quoted the Sanskrit phrase, "Vasudev Kutumbakam" which means "the world is one family"[4]. He said that progress in India means progress for its family i.e. the whole world. Indians have not only contributed to the progress of India but the progress of the whole world as well. He even encouraged on the ground that the World believes India is doing better than other nations while dealing with COVID-19 and that, India has more potential to deal with it.
Pillars of Self-Reliance in India
He said that self-reliant India will stand on the following five pillars:
Economy
Infrastructure; which will be treated as the identity of India
A Technology-driven System
Vibrant Demography of India
Demand
The Economy must work towards quantum change and not an incremental change[5]. He emphasised that we must strengthen our stakeholders in the supply chain to fulfil the demand. He stressed that India's supply chain system should work rapidly and get back on track because India's economy needs to function normally now.
Atmanirbhar Bharat Abhiyan
PM Modi gave a clarion call for an Atmanirbhar Bharat. He announced that taken together with earlier announcements by the Government during the pandemic and decisions by the RBI (Reserve Bank of India), a financial package of Rs. 20 lakh crore will be used to provide impetus to the idea of Atmanirbhar Bharat[6]. The amount is equal to 10% of India's GDP and will be implemented efficiently to provide the much-needed boost.
He even informed that the Finance Ministry will inform about how the financial package will be used and will share how the government has planned to distribute the package. Hence, our Finance Minister, Nirmala Sitharaman will address the media on 13th May; 2020 at 4 pm to share information about the allocation of the financial package announced by PM Modi[7].
PM Modi expressed concern over the plight of migrant workers and sub-classes within them. He sympathized with them and said that the package will not ignore them and will mostly be centred around land, labour, liquidity reforms and laws. He further added that the financial package will mitigate the hardships of the weaker sections of our society i.e. cottage industry, MSMEs, industries, middle class, migrant workers, construction workers, hawkers or street vendors, etc[8]. The financial package will aim towards the welfare of workers from both organised and unorganised sectors.
PM Modi acknowledged the positive impact of reforms like JAM Trinity. He added that bold reforms will be adopted by the Union and State Governments to nullify the impact of COVID-19 pandemic on the economy and promote self-reliance in the nation. He specified that reforms may include supply chain reforms for agriculture, reasonable tax system, simple and unambiguous laws, skilled human resources and a firm financial system in the nation[9]. During the last few mins of his addressing the nation, he laid much emphasis on supply chains.
He propagated the phrase "Vocal the local". He stressed that we must support the domestic brands, domestic producers and manufacturers i.e. buy domestically-produced products. All the citizens must avoid the purchase of goods produced in foreign countries and support the domestic producers as that will make the supply chain stronger and also, yield better results towards the GDP of the economy.
Article Written By- Muskan Sharma
Law Student– Jamia Milia Islimia
(HRDI Work From Home Internship)
---
[1] "PM Modi Speech HIGHLIGHTS: To battle COVID-19, Rs. 20,00,000 crore economic package", The Indian Express, available at: https://indianexpress.com/article/india/coronavirus-india-lockdown-live-news-updates-pm-modi-address-to-nation-speech-today-lockdown-extension-6406297/ (Last visited on 13th May; 2020)
[2] Ibid.
[3] "Narendra Modi Speech on Coronavirus LIVE Updates: PM announces 'Atma-nirbhar bharat', economic package of Rs. 20 lakh crore, says lockdown 4 will be entirely different", News18, available at: https://www.news18.com/news/india/narendra-modi-on-coronavirus-live-updates-as-cases-cross-70000-mark-pm-may-extend-lockdown-but-with-more-curbs-speech-at-8pm-2617049.html (Last visited on 13th May; 2020)
[4] "Rs. 20 lakh crore Atmanirbhar Bharat Abhiyan: PM Narendra Modi's mega economic push to make India world economic power", Zee News, available at: https://zeenews.india.com/economy/rs-20-lakh-crore-atmanirbhar-bharat-abhiyan-pm-narendra-modis-mega-economic-push-to-make-india-world-economic-power-2283063.html (Last visited on 13th May; 2020)
[5] Supra note 3.
[6] "PM gives a clarion call for Atmanirbhar Bharat", PMINDIA, available at: https://www.pmindia.gov.in/en/news_updates/pm-gives-a-clarion-call-for-atmanirbhar-bharat/?comment=disable (Last visited on 13th May; 2020)
[7] "Finance Minister Nirmala Sitharam to address press conference at 4 pm today", The Times of India, available at: https://timesofindia.indiatimes.com/business/india-business/finance-minister-nirmala-sitharaman-to-address-press-conference-at-4-pm-today/articleshow/75710384.cms (Last visited on 13th May; 2020)
[8] Supra note 6.
[9] Ibid.